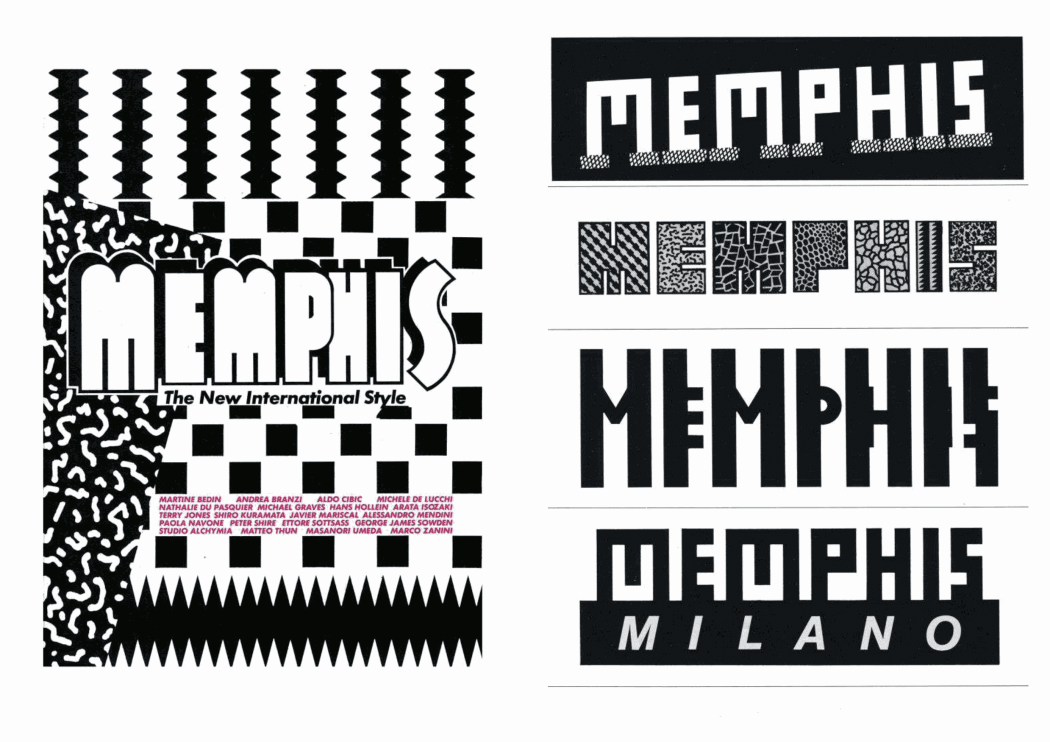 Memphis was created in Ettore Sottsass' living room on December 11th, 1980 in Milan by a group of young designers and architects. Sottsass named the band after Bob Dylan's song "Stuck Inside of Mobile with the Memphis Blues Again," which had been on repeat all night. Everyone thought it was a fantastic Blues, Tennessee, and rock 'n' roll name, evoking the Egyptian Farahon capital, the Ptah God's hallowed metropolis.
Following the initial meeting of the group on the 12th and 14th of December, there was enough time to discuss the creation of a completely new design collection.
Ettore Sottass, Aldo Cibic, Matteo Thun, Marco Zanini, Martine Badun, Michele de Lucchi, Nathalie Du Pasquier, and George Sowden drew their first drawings in February. Memphis debuts its first collection of 55 pieces at the Salone del Mobile in Milano on September 18, 1981, in the Arc '74 Corso Europa 2 showroom of Brunella and Marco Godani, under the direction of Ettore Sottsass and the creative direction of Barbara Radice. A total of 2500 persons attended the exhibition.
Jasper Morrison recalls feeling virtually rejected by these objects while also feeling utterly emancipated by their disregard for the rules.
Memphis is an international cultural phenomenon that emerges from a period of remarkable innovation rooted in the avant-garde of the 1960s and 1970s.
Memphis revolutionised the logistics of the design industry with new shapes, materials, and patterns, led by Ettore Sottsass and Barbara Radice.
Memphis was established as a cultural laboratory for the production of new ideas through experimentation with shapes, colours, signs, and contents from the outset. In contrast to traditional interior design, the Memphis language is defined by maximum colour and material freedom, combining plastics with traditional materials and enhancing them with patterns inspired by the most diverse sources.
Memphis defied all of functionalism's conventions as well as the bourgeois notion of "good taste," and within a decade, it had permanently altered the face of contemporary design.
This new design language combined elegance and kitsch, using ludicrous shapes and exquisite patterns on plastic laminates to communicate I n the rational industrial world, introducing playful innovations. Memphis quickly drew the attention of the international press.
Andrea Brazi, Alessandro Medini, Michael Graves, Hans Hollein, Shiro Kuramata, Peter Shire, Masanoriu Umeda, Arata Isozaki, Terry Jones, Javier Mariscal, Paola Navone, Luigi Serafini, Bruno Gregori of Studio Alchimia showed their designs at the Salone debut in 1981, alongside the members who took part in the first meetings.
Memphis, would present a new collection at the Salone every year until 1987, as initially done by Ernesto Grismondi. The following designers have collaborated with Memphis over the years: il collettivo americano Arquitectonica, Thomas Bley, Rudi Haberl, Walter Kiripicsenko, Michael Podgorschek, Daniele Puppa, Christoph Radl, Gerard Taylor, Fabio Bellotti, Robert Mangurian, Thomas Bley, Rudi Haberl, Walter Kiripicsenko, Michael Podgorschek, Daniele Puppa, Christoph Radl, Gerard Taylor, Fabio Bellotti, Maria Sanchez, Nick Bewick, Pierangelo Caramia, Beppe Caturegli, Dante Donegani, James Evanson, Giovannella Formica, Shuji Hisada, Massimo Iosa Ghini, James Irvine, Ferruccio Laviani, Giovanni Levanti, Angelo Micheli, Marco Zanuso, Laura Agnoletto, Marzio Rusconi Clerici, Gui- do Borelli, James Evanson, Johann
In 1985, the Memphis-Milano logo was changed from the one used for the first three years to one developed by Christoph Radl. Ettore Sottsass quit the organisation the same year. Luci/Lights, their last group show, took place in 1988. Since then, the Memphis label hasn't released any new designs.
The label Memphis-Milano is owned by Memphis srl, which is currently headed by Alberto Bianchi Albrici, who bought it in 1996 from Ernesto Gismondi.
The Memphis group's designs, which were created between 1981 and 1988, are still limited in production today. Dedicated to the belief that design should be utilised as a tool for communication rather than as an elitist art form.
Memphis continues to inspire the creative industry in the fashion and television industries as a cultural movement. Young innovators continue to be inspired by the movement's spirit of liberation.
The discussions about the concept of design and furniture, their aesthetic restrictions, their social and communicative role, and their creative and productive aspects are still relevant today.